[/et_pb_column]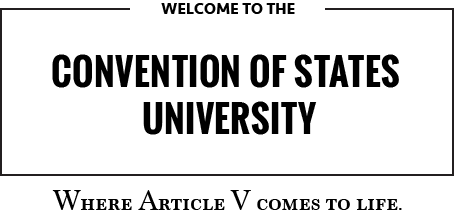 OUR MISSION
At
Convention of States University,
we believe it's not enough to merely educate ourselves about the Constitution and American history.
To win the fight for the soul of America, we must equip ourselves to apply these principles with smart, effective strategies. We must ignite a constitutional awakening with the Constitution's own action plan.
That's why we're offering courses and curricula in an online university format to reach, teach, and activate a grassroots army of self-governing citizen activists.
You'll learn how to apply America's fundamental principles, the secrets to effectively impacting your local government, and receive in-depth training on Article V and the Convention of States movement.
Already a Convention of States volunteer? You'll find all the information you need, tailored just for you, on how to help make history and save America.
Ready to dive in? Check out our courses below and enroll in a class today!
COURSE OFFERINGS
The courses highlighted below are our initial offerings in our catalog.
Register today and select a title to begin your learning experience!
CONNECT
5850 San Felipe
Suite 580A
Houston, TX 77057
540-441-7227